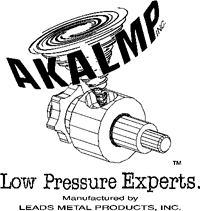 One of the most influential companies in the story of the autococker has to be a little company in Indianapolis Indiana call AKA. AKA is actually only one part of the story, but it's the name that has come to represent the company. AKA (Aaron K. Alexander after its founding president) is actually only one aspect of the company his family founded in 1986 called LEADS Metal Products(Larry, Eileen and Daughters & Sons) to do rapid prototyping and short run machining for anything from medical to aerospace. Larry had been in the aerospace industry and his son Aaron was an Aerospace engineering graduate from Purdue University (AKA/LMP would also become a major supporter of Purdue Universities Paintball club and the NCPA) when LEADS Metal was founded.

Although Aaron started playing paintball in 1987 and formulated many of his ideas and concepts soon after, it wasn't until 1997 that LEADS Metal would really rise into paintball. That year they released their Tornado autococker valve, followed shortly after by the Javelin barrel (at the time the tightest production bore barrel) and Mighty Max expansion chamber (increased the stock cocker internal air chamber by up to 50% for low pressure use). Released to a great deal of skepticism, the tornado valve offered increases in efficiency and a lower operating pressure. With the increase in paintball operations, AKA was formed with Aaron as the president and lead designer. AKA would also release a number of variants for other markers over the next few years (including Palmers, WDP, and Kingman), although none would be as successful as the cocker package. The first true AKA cocker was the Black Widow series built to incorporate the full low pressure package to its highest potential, and although extremely short lived it served as a valuable stepping stone.

In 1999 AKA entered into a production agreement to provide bodies for Splat Attack's new revenge series. These bodies were called VLM's and were the first marketed non WGP bodies. Although fully compatible with WGP components, the VLM's featured increased air chambers, wire ball detents and later removable feed necks. These bodies drew a harsh response from WGP which in July 1999 filed a Trade Dress Lawsuit (not a patent lawsuit) against AKA/LMP and Splat Attack and used its sponsership to bar AKA from Wayne Dollack Scenario games. This lawsuit alleged damages in excess of $10,000 for the use of a back block and sought both monetary damages and seizure of tools and assets used in the production. In Jan. 2000 a Federal judge dismissed the lawsuit in AKA's favor.

Splat Attacks Revenge V2 (and later the round body V2LE and the prototype V3) in 2000 featured AKA's second generation bodies, the VLM Merlin. Later coming to be simply called Merlin's, the VLM Merlin boasted a number of changes over the earlier VLM's including a much larger air chamber and a valve that was inserted from the front as well as a front block to accommodate it.

In 2000 AKA also released their first full production closed bolt electro, the "Excalibur". In 2002 AKA released its second electro, the more economical open bolt "Viking". In 2004 AKA was sued for patent infringement on their electronic triggers by Smart Parts. AKA signed a deal to no longer produce the Viking and Excalibur in exchange for dropping the case with no finding of merit in the case. In 2005 Aaron left AKA/LMP with Dan Voils to start STD Industries and although he retained a seat on AKA's board he was replaced as president. Although rumors abounded of a new AKA marker in 2005, likely autococker based; It has never been put beyond the early design stages.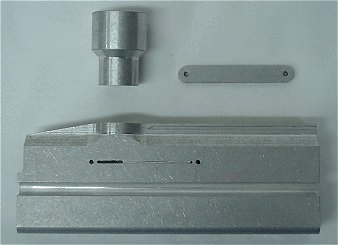 Standard Features of all VLMs:

Vertical feed
Interchangeable feed tube. Can use Angel feed tubes
F-4 wire nubbin (others styles coming soon)
Cover plate for wire wubbin (others styles coming soon)
Milled sight rail
Ready to mill and anodize
Manufactured to very tight tolerances
Bolt bore honed smooth
Feed tube sits in counterbore and doesn't protrude into bolt bore
Valve Jam nut locking set screw
Dual pump arm rod grooves
Dual inlet holes on vertical mount area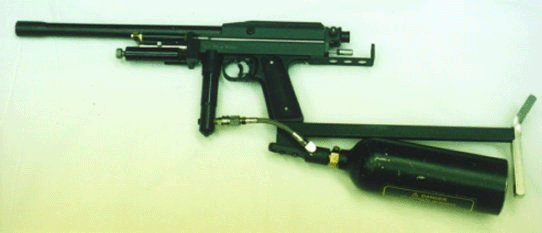 Black Widow Autococker- $1300
Only six of these guns were ever built
Lightly Milled Body
Hard Anodized and Laser Engraved
AKALMP Tornado Valve
AKALMP Nickel Plated Mitey-Max
AKALMP Javelin Barrel
AKALMP Lightning Bolt
AKALMP Evolution Style Pull Pin
AKALMP Custom Machined Back Block
Custom Modified Nelson Hammer
Black Rock Reg.
AKALMP Custom Rock Knob
STO Ram
STO 4-Way
Beavertail
AKALMP Custom Modified Benchmark 45 Grip Frame
Black 45 Grip Panels
AKALMP Trigger Job
Cutom Modified Wide Trigger Plate
Sear (wide)
Sear Guides
Trigger Shoe
Multiple Set Screws
WGP inline reg with AKALMP Adjuster cap
AKALMP Straight Pump Arm Rod
AKALMP SS Cocking Rod
Threaded Actuator Rod/Coupler w/Side Movement Lock